Кубок Молдовы (до 15 лет)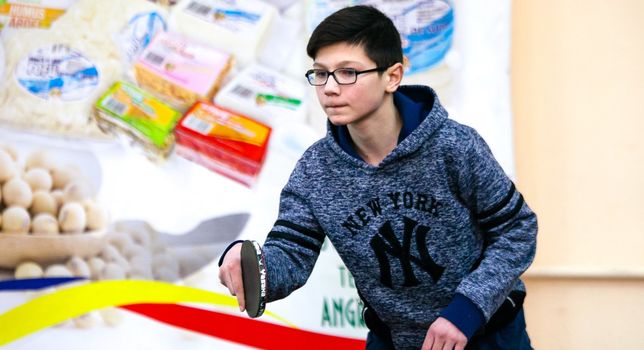 Кадетский Кубок Молдовы (до 15 лет)
Предстоящие поединки кадетского Кубка Молдовы обещают нам немало интересных и захватывающих поединков. Как известно, прошлогодняя обладательница кадетского Кубка Молдовы Наталина Брынза из Бельц перешла в юниорскую категорию и больше не сможет участвовать в кадетских состязаниях. Основными претендентками нынешнего кубкового турнира среди девушек справедливо считаются Камелия Меренко из Кишинева, чемпионка страны среди мини-кадетов Валерия Виеру из Бельц и ее одноклубница Виктория Михайлова. В мужском кадетском Кубке Молдовы главным претендентов числится прошлогодний обладатель почетного трофея Дионис Липкан из Калараша, который в этом году завершает свои выступления среди теннисистов до 16 лет. Среди других претендентов на победу отметим кишиневцев Григоре Шарканяна и Чезара Козмолича. Интересно будет проследить и за игрой Даниела Кошкодана из Калараша, который все громче заявляет о себе и на играх среди взрослых мастеров настольного тенниса.
Similar events
9 february
290 days remaining
On the 9th of February 2020, in the wine cellars of Milestii Mici, the Milestii Mici Wine Run 2020 will be held. This is the only race in Europe with a 10-km course at a depth of 80 meters. Both professional and amateur athletes can take part in the race. Registration for the Milestii Mici Wine Run 2020 is open now, don't miss your chance to participate! Please mind that there is limited participation.
Two starter packages are available for participants this year:
— standard package;
— standard package and degustation.
Winners will be awarded prizes and gifts from event partners.
To register for the race, please visit the official website https://milesti.winerun.md/
The Milestii Mici Wine Run 2020 is conducted by the sports organization Sporter and the largest bulletin board in Moldova - 999.md.
27 december
246 days remaining
22 december
241 days remaining
Maratonul de Craciun is an annual costume race for the whole family, during which, for several hours, the main streets of the capital city turn into a fairy-tale track.
This is a non-competitive race, traditionally held on Christmas and New Year's Eve. Participants are supposed to run 3 km and collect gifts along the course. As well, a fancy dress competition is held. Everybody have fun with their friends and family.
Organizers: public sports organization Sporter, advertisement board 999.md, women's forum mama.md.