About Sporter Project
Sporter is a non-governmental and non-commercial public organization, which conducts mass sporting events in the Republic of Moldova for various disciplines: running, cycling, swimming, triathlon, obstacle races, cross-country races, duathlon, aquathlon, etc.
History
Sporter Public Association was founded on 9 October 2013, by businessman and athlete Dmitrii Voloshin. The same year, the organization lead the first 5 km running race in its history: (500 thousands of centimeters). Over 50 people took part in the event. During the 8 years of activity, Sporter organized over 66 sporting events. The number of participants in one event varies from 400 to 20,000.
Project goal
The main project goal is to promote a healthy lifestyle and to develop the amateur sport in Moldova.
Sporter.md website works on Sporter events promotion and on coverage of the latest sport news.
Objectives:
Promotion of healthy lifestyle

Creation of a sporting community in Moldova

Popularization of amateur sport in the Republic of Moldova

Development of tourism in Moldova

Children's sports development
Cooperation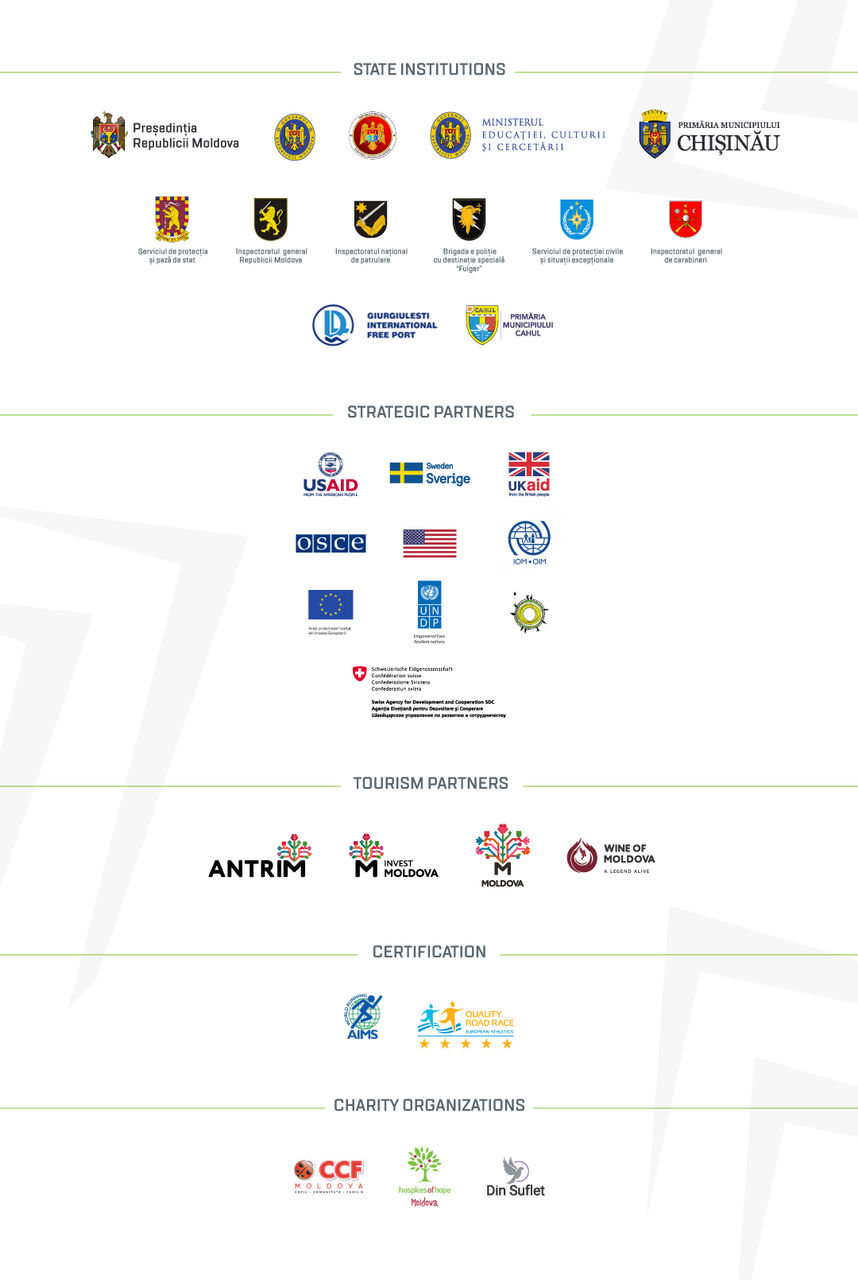 In March 2018, the Triathlon Federation of the Republic of Moldova was integrated into the Sporter organization, and Dmitri Voloshin became its president.
Sport Platform

Sporter is the leader of the Sport Platform, which was launched as part of the Confidence Building Measures Program of the EU and implemented by UNDP. The program includes NGOs and professional associations from both Nistru banks, and aims to introduce common development projects.
The partners are the following: EU, UNDP and "Bridges of trust over the Nistru".
On 29 February 2020, Sporter started a series of training on the "Mass events organization" topic for platform members.
European Week of Sport 2019

The European Week of Sport is the largest sports movement in the world, which unites millions of people from over 40 countries. In 2019, between 23 and 30 of September, thousands of #BeActive sporting actions and races took place simultaneously in several countries of the world.
On September 23, the official opening ceremony of the fifth European Week of Sport "#BeActive — Fii activ. Fii sportiv. Fii pozitiv." was held in the Great National Assembly Square in Chisinau.

During the opening ceremony, the square transformed into the biggest open place for sporting games and races, in which any child could participate for free.
Tourism Promotion
Sporter events aim to attract foreign participants and to promote the culture and traditions of Moldova. Since 2015, Sporter has organized the Wine Run Series, based on original ideas. These races are held for popularisation and familiarization with one of the most important Moldovan agricultural branches - wine making, among local and foreign tourists. The racing events take place in the Cricova wine cellars, Chateau Purcari vineyards and Milestii Mici wine galleries. In addition, foreign participants join the annual Chisinau International Marathon.
Marathon for All 2018 - 2019

Sporter was able to open a category for wheelchairs athletes as part of the Chisinau International Marathon, with the support of the Swiss Agency for Development and Cooperation. The participants of this category compete on the same level as others, either on their own or with assistants (who help them partially). The Marathon for All winners of 10 km, 21 km and 42 km distances are awarded separately.
Volunteers
Sporter promotes volunteering and has its own volunteer team, which includes more than 500 people from all over the country. Over five years, the volunteer team generously helps Sporter in organizing and conducting sporting events.
In 2019, the "Sporter Voluntariat" club received an award in "The Most Active Volunteer Organization" nomination at the National Volunteer Festival.
Events Organized by Sporter: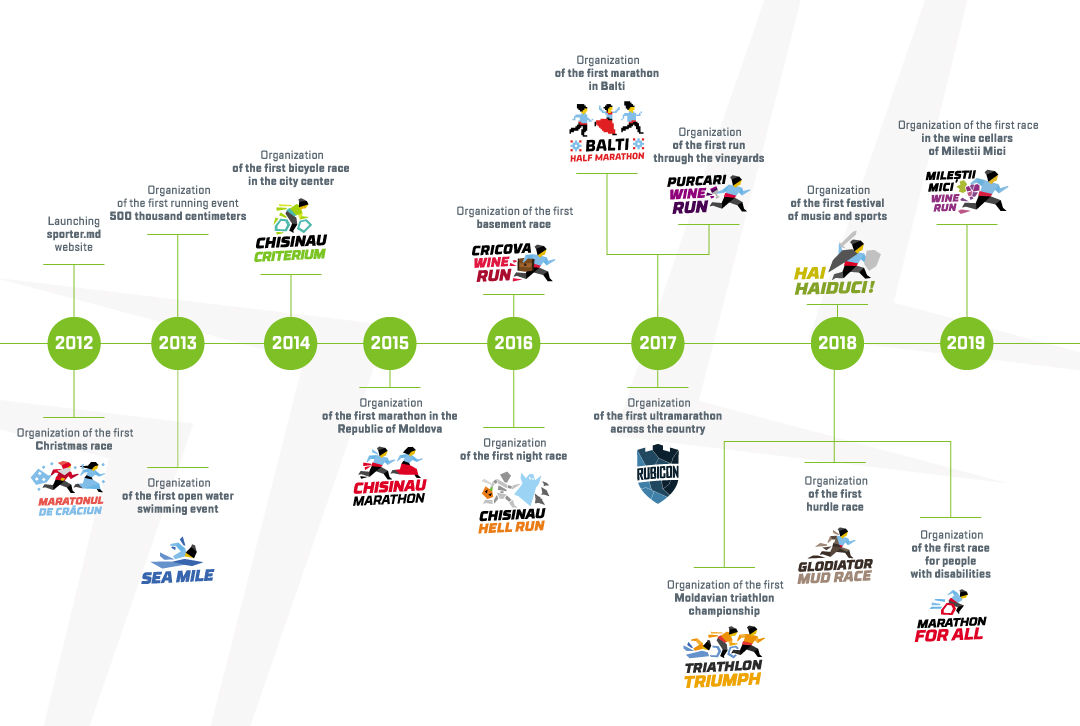 2012 - 2019 - Maratonul de Craciun — an annual charity and costume race for the entire family, which usually is held on the threshold of winter holidays. (video)
2013 - 2018 - Sea Mile — an open water swimming contest. (video)
2014 - 2019 - Chisinau Criterium — an annual urban cycling race in Moldova, which is held on the central streets of Chisinau. (video)
2014 - 2019 - Puzzle day — a speed puzzle contest for amateurs and professionals. (video)
2015 - 2019 - Chisinau International Marathon — the most large-scale sporting event in Chisinau with 42 km, 21 km, 10 km, 5 km and 1,5 km distances. (video)
2015 - 2019 - Kids Run Day — a children's running race, which is organized as part of the Chisinau International Marathon. (video)
2016 - 2019 - Hell Run — a Halloween costume race. (video)
2016 - 2018 - Cricova Wine Run — a 10 km winter race from the Wine Run series, which is held at almost 100 m deep (~328 ft) in the wine cellars of Cricova Winery. (video)
2017 - Bălți Half Marathon — a running competition on 21 km, 10 km and 5 km distances through Balti. (video)
2017 - 2019 - Kids Criterium — a children's cycling race. (video)
2017 - 2021 - Rubicon — an annual ultramarathon relay in Moldova, the track of which runs through the whole country. During three days, the athletes run through all regions in the country, from North to South. In each of the three years the track and route change. (video)
2017 - 2019 - Purcari Wine Run — a 10 km summer running race from the Wine Run series, which passes through the Chateau Purcari vineyards. (video)
2018 - 2019 - Triathlon Triumph — an annual outdoor triathlon championship. It combines three disciplines: running, swimming in open waters and cycling. (video)
2018 - 2019 - Kids Triathlon Triumph — a children's triathlon championship in Moldova. (video)
2018 - Cahul Maraton 10 km — a 10 km running competition as part of "Cahul - Capital of Youth 2018" program.
2018 - 2019 - Hai Haiduci! Sport and Music Fest — a sports and music festival, which includes cross country races and mountain bike cycling races. The event is organized at the Vatra Ethno Cultural Center. (video)
2018 - 2019 - Glodiator Mud Race — a new format of running races in Moldova. The track represents an obstacle course, which only true gladiators are able to overcome. (video)
2018 - 2019 - Marathon for All — a race for wheelchair athletes. (video)
2018 - Indoor Triathlon — an indoor triathlon competition. (video)
2018 - Kids Indoor Triathlon — a children's indoor triathlon race. (video)
2019 - Criterium Kids Duathlon — a children's race within the Chisinau Criterium race, which consists of three stages: running, cycling and running. (video)
2019 - Kids Glodiator Mud Race — a children's obstacle race. (video)
2019 - 2020 - Milestii Mici Wine Run — a 10 km wine race through the Milestii Mici wine cellars. (video)
Partnership events
Sporter has hosted over 500 partnership events. Here is the list of the most significant events:

Moldova Road Running Race Championship on 5 km and 10 km distances, which was held in Ungheni, in partnership with the Athletics Federation of the Republic of Moldova and the Ministry of Youth and Sports.

Olympic Fest is a festival which unites professional and amateur athletes, and which aims to promote healthy lifestyle and Olympic Movement.
Motocross Championship represents a series of motocross races; it took place in partnership with the Motorsport Federation of the Republic of Moldova.
"Together we say NO to human trafficking" is a 5 km race, which has the purpose to raise awareness about human trafficking. The event took place in partnership with the Ministry of Foreign Affairs.
Bodyguard Championship
is a competition for the bodyguards of the State Guard Service of the Republic of Moldova.